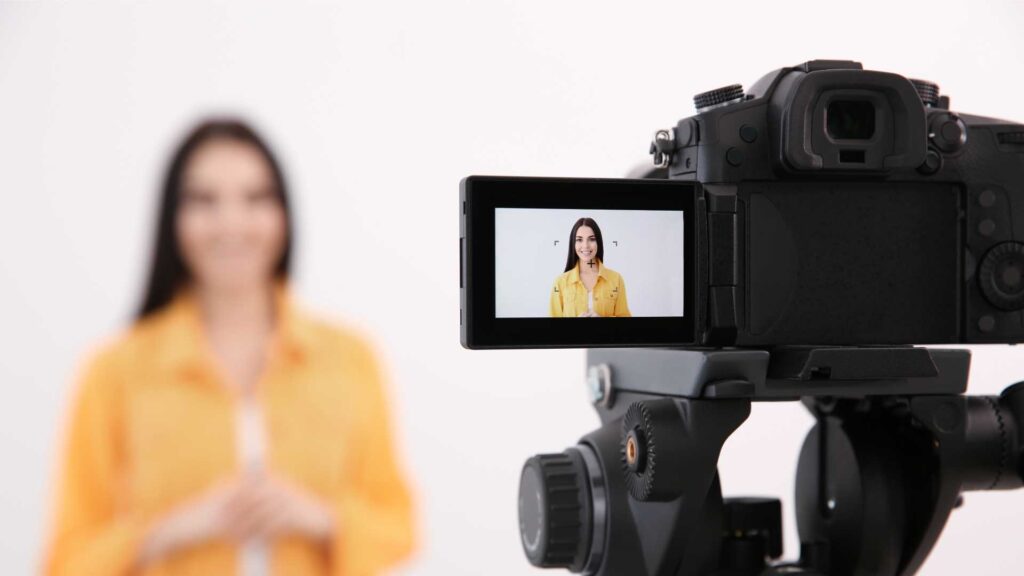 How to Be Comfortable and Confident on Camera
So, you're going on camera! You are probably excited and a little nervous. Don't worry, you just need a little coaching and a few tips on how to be comfortable on camera to help you prepare!
Look Great on Camera
Everyone has a style but in business it's important to keep in mind that no matter what your style, you need to dress the part. Here is something most people don't know, what looks good on camera may be different than what you see in the mirror. Here are a few tips to be sure you look great.
Logo wear or business casual is always a good choice. Wear long sleeves. Generally video shots are waist up. However, if you are on a "set" it may be a full body shot… so no shorts or dirty sneakers.
Avoid busy patterns or pinstripes. Solid colors look best.
Avoid colors that are too bright. Subdued or jewel tones look best. Avoid white or black. Blue is great for skin tine.
Keep jewelry to a minimum. Too many bracelets or large necklaces can interfere with good audio. Statement pieces can look dated a few years from now, so keep it simple and classic.
One last tip about dress. Dressing at, or slightly above, the style of your audience can also help you get comfortable in front of the camera. That way you won't make them feel uncomfortable because you are too dressed-up or too casual.
What is Your Face Saying?
Most people are not aware of what they are projecting. Facial expression is especially important because the camera gets up close and personal. Your excitement and passion for your topic should come through. You want to look natural, friendly, and professional! Not sure what you look like?
One way to get a better idea is to practice in the mirror. Your face should reflect the tone of the content. If not, you are sending mixed messages and people are more likely to believe what your face is saying.
Eye contact is another aspect of on-camera performance. If you are being interviewed, you want to look at the individual. If you feel comfortable and know what camera is being used for your close-up, you can occasionally look at it to include the audience. But be careful. It is easy to get caught looking the wrong way.
Body Language
Your body language also says a lot. Be sure to have good posture. As my mother always said, "don't slouch". It looks bad in person; it looks worse on camera. Some people have been taught not to use their hands – which is just simply wrong. Using your hands will help loosen you up. Of course, there's a right way and a wrong way to use gestures. They should always be around the mid-section of the body. Never up in front of your face. If they are too big, they are distracting on camera. And anything that is repeated too much, like pointing, is off-putting. Keep gestures casual and friendly.
Voice and Pacing
Your voice is your voice, you can't do much to change it, but there are some things you can control. Pitch can be slightly manipulated but not changed substantially. A good way to evaluate how you sound is to use a smartphone or other recording device and say a few lines. Then listen back. If you sound a little squeaky- remember to breathe deeply. If your voice sounds muddy- really concentrate on forming the words and slowing down so you are more understandable.
Often when people are nervous, they speed up – a sure sign they are uncomfortable in front of the camera. You'll want to pay attention to this. In addition, highly technical information must be presented slowly so the audience has a chance to absorb the content. And don't forget to pause. It is an important aspect of pacing. When you pause, you emphasize the statement you just made.
Finally, without expression, a voice is monotone. It has no excitement. The best way to describe expressiveness is to imagine you are reading a young person a fairy tale, like Little Red Riding Hood. "And the big bad wolf said, all the better to see you my dear." When you are expressive your words are filled with emotion, there are pitch changes and variety in your pacing.
One last note here, you do not need to speak loudly. The audio will be adjusted by the crew.
A Few Final Thoughts
When going on camera, try to think about a few key talking points. DO NOT SCRIPT OR MEMORIZE ANSWERS. You want to sound as natural as possible, and not scripted. Simply think about how you might answer conversationally. Keep responses short, more is not better. Finally, always assume everything you say is being recorded and on the record. Be careful when you are around cameras.
Lights. Camera. Action. Now that you've got the tools and know how to be confident on camera go out there and make an impression.